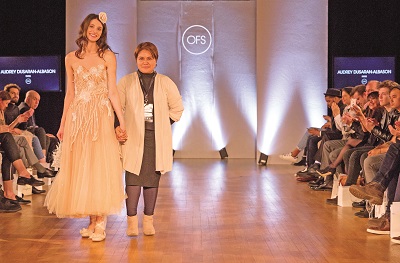 Ilongga represents PH in Paris fashion show.
By: Tara Yap
ILONGGA Audrey Rose Dusaran-Albason is the only Philippine representative to a recent fashion show in Paris, France.
Albason's collection dubbed "Gugma" (love) was showcased at the Paris leg of the Oxford Fashion Studio (OFS) last March 4, 2017.
While new in the fashion scene, the 32-year-old mother and wife is slowly gaining a name for her "feminine-eccentric" designs.
Albason has made several shows in Iloilo and Manila before her work caught the attention of OFS, a UK-registered company that produces shows in Paris, New York, London, and Oxford.
OFS invited her to showcase her work in Paris that coincides with the celebration of Women's Month.
"It felt surreal," she said.
The "Gugma" collection showcased in Paris actually had a Visayan touch.
She said her contemporary designs were inspired by different landscapes of the Visayas—its beaches, rivers and waterfalls.
She also paid homage to the flora and fauna of the Visayas. The handcrafted details and embellishments were shaped into tree leaves such as anahaw or ilang-ilang.
Her world first revolved in the medical field. A graduate of Central Philippine University (CPU), she initially worked as a nurse but would soon quit her job.
She pursued her passion by studying at the Fashion Institute of the Philippines in Manila and only made a debut of her work in 2014.
To hone her skills, she trained under the guidance of renowned designer Francis Libiran.
via https://thedailyguardian.net/banner-news/ilongga-represents-ph-paris-fashion-show/