Last February 16, 2019, we were privileged to join the 27th annual charity fashion show hosted by St. Andrew's University.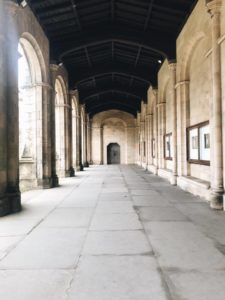 So, here's a little back story of the University courtesy of Wikipedia. The University of St Andrews is a public university in St Andrews, Fife, Scotland. It is the oldest of the four ancient universities of Scotland and, following Oxford and Cambridge universities, the third-oldest university in the United Kingdom and English-speaking world in general.  St Andrews has many notable alumni and affiliated faculty, including eminent mathematicians, scientists, theologians, philosophers, and politicians. Recent alumni include the former First Minister of Scotland Alex Salmond; Cabinet Secretary and Head of the Civil Service Mark Sedwill; Chief of the Secret Intelligence Service (MI6) Alex Younger; former Secretary of State for Defence Sir Michael Fallon; Olympic cycling gold medalist Chris Hoy; and royals Prince William, Duke of Cambridge, and Catherine, Duchess of Cambridge. Six Nobel Laureates are among St Andrews' alumni and former staff: two in Chemistry and Physiology or Medicine, and one each in Peace and Literature. – Yes this was probably the first thing I googled when I received the invitation by email from the fashion show committee. After scrolling through the entire link, my ignorance was apparent. I laughed a little bit thinking I had absolutely no idea how big a deal the invitation truly was for a small-town designer from the island of Panay in a country as far away as the Philippines.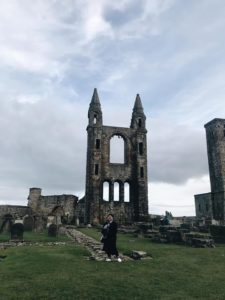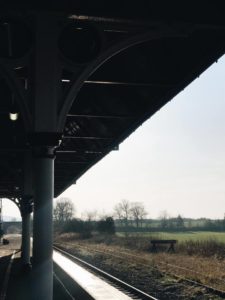 So, fresh from our London Fashion Week show last September, I packed my 8-piece Pagla-um collection once again, making an additional 4 looks to complete the 12 pieces required for the show. As always, and with every other invitation I get for an international show, I try not to worry and fuss too much and just enjoy the journey, wherever it may lead me.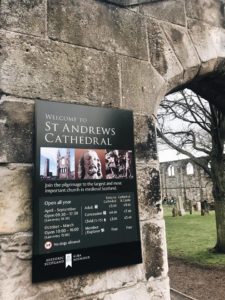 Compared to Edinburgh, Fife, a university town, seemed worlds away. Once in a while I'd check with Google maps just to make sure we were in the right place, always second guessing my every turn. It helped that for the first time, my husband accompanied me for a show. A side trip to Iceland made for a good bribe. Hahaha. We arrived in Fife from an early morning train from Edinburgh, the station was nearly empty. On the ground were damp white patches of the snow we missed by just a few days. It was a quiet and welcoming change from our Paris-Iceland-London trip and the perfect place to unwind before finally heading back to the Philippines.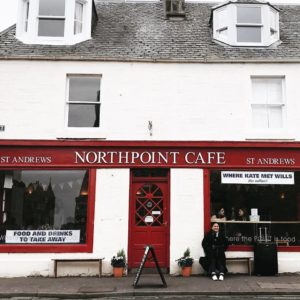 As an added bonus, the organizers informed me that they have decided to open the show with my collection. Not a small feat at all considering the vast array of designers joining this year's show, with famous names such as Paul Smith and Ted Baker in the line-up. What a thrill!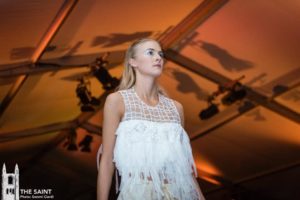 The lights dimmed and the music started, a long dramatic score building up until the shadows of the first batch of models appeared on stage. I saw the slight flutter of one of my dresses against the dark until the entire stage lit up again as the models began walking on the runway. My name and logo appeared vivid on the screen, a sight I will probably never grow tired of.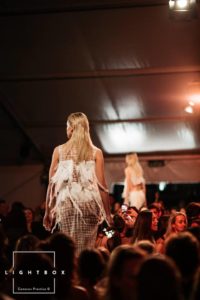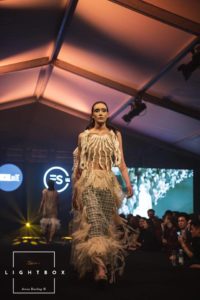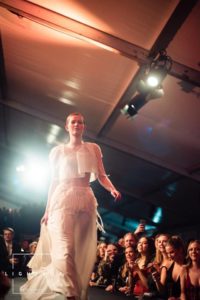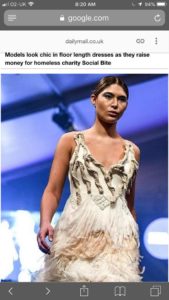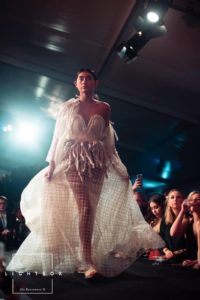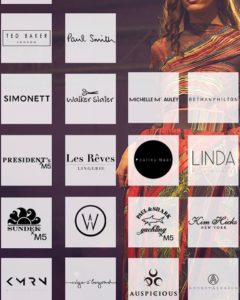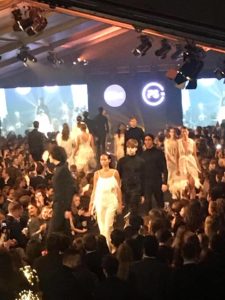 As with most of the shows I go to, I often end up with nothing to wear. Hahaha. But for the St. Andrews Charity Fashion Show, I came a bit more prepared.
My first collection back in fashion school was an entry I sent for a design contest back in 2013. It was inspired by the T'nalak cloth from the dream weavers of the T'boli tribe of Mindanao. Fast forward to 2019 and many collections later, I still make it a point to use handwoven fibers native to the Philippines. I've not yet come full circle (nope, hardly!) and I believe that my story has just begun. But having the very same T'nalak cloth with me as I opened a charity Fashion show for the University of St. Andrews last February makes me appreciate every simple beginning. From water-colored dreams in paper to unexpected opportunities in lands far far away.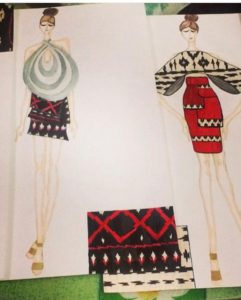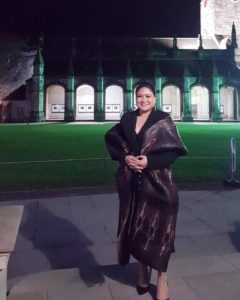 .