The day greeted me with an early faux pas after I sat in the front seat of the uber taxi and was mistaken for a party animal who was suffering from a severe hangover by the driver. To validate his presumptions, I offered to pay him in cash after giving him a lecture on the pathophysiology of neonatal prematurity the entire trip to cover up for my embarrassment for being disoriented and exhausted from yesterday's shift, thus the haggard-look. I was saving lives, you know. Thank God he was honest to remind me of automatic electronic banking and gave me well wishes for my trip "don't get ripped off in Paris." The truth is, nothing beats the excitement of catching up with a childhood friend after several years of just ogling each other's lives on facebook. Better yet, our several ill-attempts to meet in our dear hometown in the city of love, brought us to an unexpected rendezvous in the city of light for Paris Fashion Week instead. After two hours and a half of drifting in a mini-coma in Europe's bullet train, the torrential rain of Paris welcomed me in an unforgiving fashion. I braved the cobblestones of Rue Moliere, drenched, with google map leading me to the hotel where my friend and I were booked. After hovering from one street to another, I finally got to the hotel, left my luggage and went straight to the venue which was thankfully a few blocks away from where we stayed.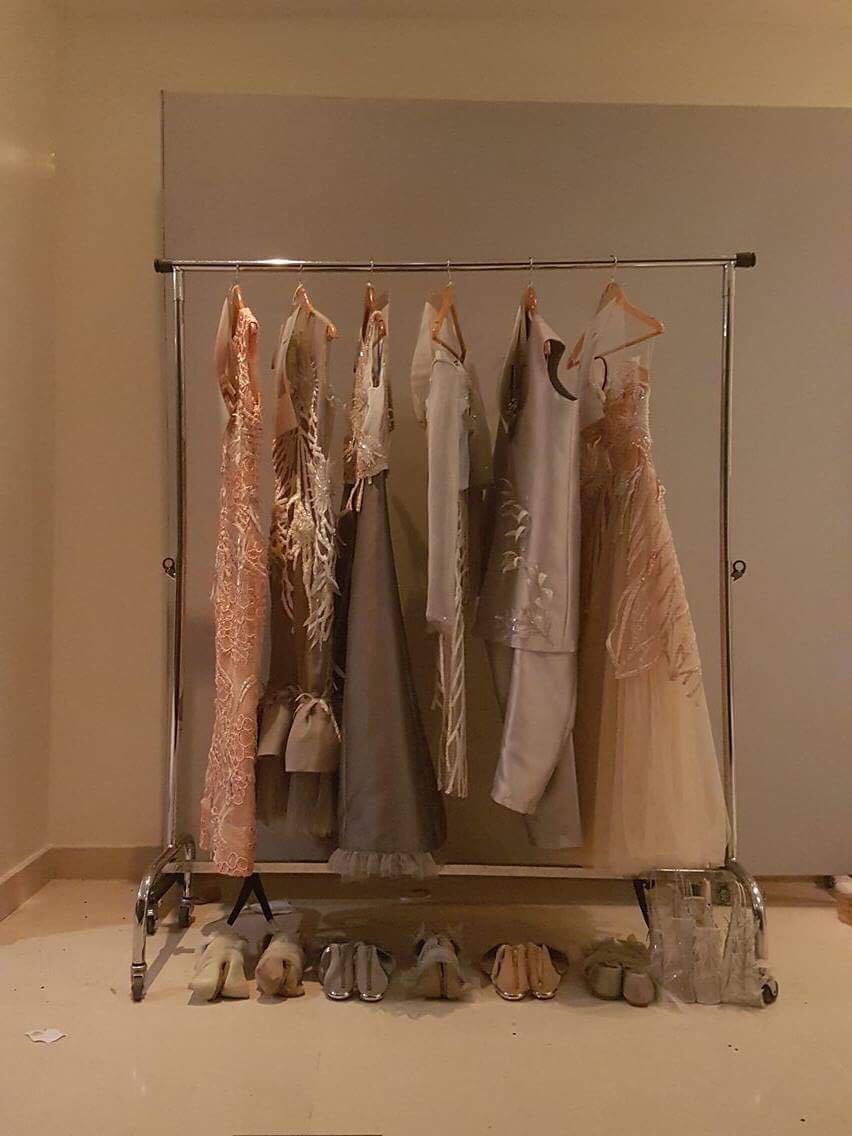 It was filled with people, of course, clad in all-black or something between the MTV Music Awards and the Grammys. "I'm here for Audrey Rose Dusaran-Albason, a designer. I'm her assistant," were the words that came from my mouth when I was asked by the tall mademoiselle who was at the door. I was handed with an ID card and was ushered to the backstage where models ran around in their undergarments and fancy clothes, assistants painstakingly did their steam iron tasks and designers neurotically freaked out. Audrey Rose or "Smol," as she was fondly called by her friends was somewhere along Rue de Rivoli panic buying for shoes in lieu of the ones she bought from SM City that didn't fit her casted models. Although the eldest, "Smol" (small), is the most petite among the three daughters of Dr. Rey Dusaran (CARES) and Professor Adelfa Dusaran (College of Nursing), both actively working as faculty members of Central Philippine University. Originally from Dumangas, Iloilo, Smol grew up in the City of Iloilo and was a loyalty awardee of Central Philippine University, the place where we shared our fondest moments from grade school to graduate school.
"Nini!" as we endearingly call each other, echoed through the white walls of the hallway when we finally met after she was stuck in traffic for more than an hour. Still the unpretentious, humble friend and classmate that I knew despite her notable growing reputation in the fashion realm, we situated ourselves on the carpeted floor and got straight to business. Both armed with needles, we sutured the tulle and faux pearl designs on the new shoes like the full-fledged nurses that we were. Having completed Bachelor of Science in Nursing on 2006, we both enrolled in graduate school and finished our Master of Arts in Nursing on 2010. She worked at West Visayas State University Medical Center for a few years after that but her passion for fashion was just too strong for her to ignore. She took up short courses at TESDA and eventually got formally enrolled at the Fashion Institute of the Philippines. The opportunity opened doors for her to work as an intern for the world-renowned Francis Libiran and paved the way for her own clients as she continued to rub elbows with the dignitaries.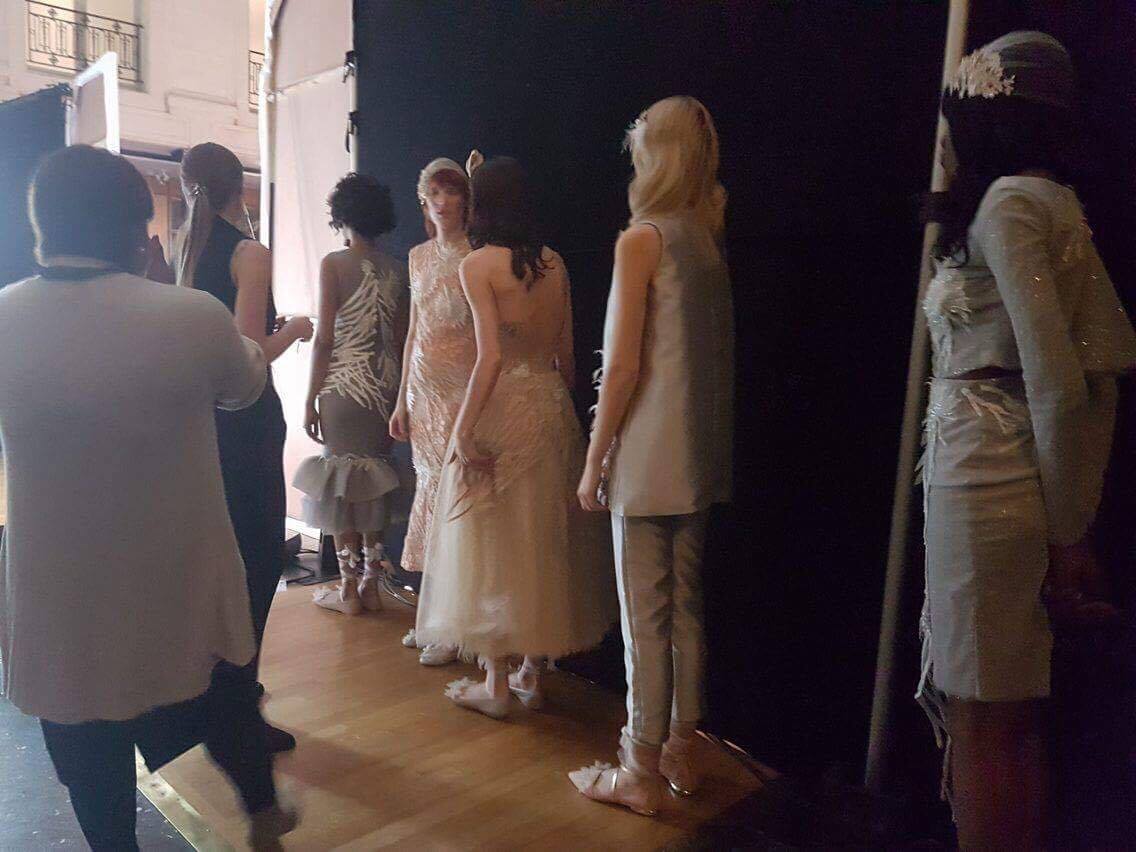 "Why gugma, Nini?" I curiously asked about her collection after running my fingers through the laces and tulles of her dresses. "Because I think the Visayan region is underrepresented in a way. Culturally, Tagalog and Luzon are more recognizable. I think the other Philippine dialects are just as beautiful and just as expressive so I chose to highlight that in my collection title", she answers. Gugma, in the designer's native dialect of Hiligaynon, translates to "love". Her collection is inspired by the natural landscape of the Visayan islands – its beaches, rivers, lakes and waterfalls, along with the flora and fauna abundant in the Philippine forests. Tulle and luxurious silk gazaar in shades of soft grays, silvers and beige were embellished with individually handcrafted fused tulle and glitter-layered and fused piece by piece and then cut out and beaded into shapes of Anahaw, Ilang-ilang and bamboo. Speaking of gugma, she is married to Jude Chester Albason, a contractor in Iloilo City, with whom she shared a love for ultimate frisbee and their adorable son named, Sage.
After the constant babbling of idle gossips, our tete-a-tete was cut short when we were called to bring her collection to the backstage of the runway. Long-legged models gracefully met us like Middle-earth elves waiting for their time to move down the catwalk. I helped Smol suit them up in my internalised role as a designer assistant and felt like a pro for those brief, yet magical minutes. Closing the show with her ethereal, whimsical, ballerina collection, I watched her gleamed with excitement and flabbergasted with the overwhelming response of the audience for her collection. "They clapped for me, Nini!" "They were all smiling!" escaped her unassuming lips after strutting the runway with her model. The next minutes to hours (I lost track of time) catapulted her to instant stardom as snapshots were taken with models and visitors that were enthralled by her collection. As the only Filipino designer, she was also interviewed by a Filipino TV Network correspondent to be featured on Philippine national television.
When the euphoria died down and the adrenaline faded, we headed backstage to pack her collection. We then walked through the dark alleys and cobblestone streets of Paris like two wandering tourists with a giant suitcase, giggling our way to the hotel. It was almost midnight so all the shops were closed except for a convenient store nearby. We got ourselves some chocolates, pretzels and cup noodles, and celebrated the night like little girls in a slumber party. She fell asleep shortly as the stress of the day took a toll on her instantly; and as my languid self fought for the last string of consciousness, I thought to myself… dreams do come true.